Home


TC3+
Engines - Standard Gauge
- Switching & Industrial
- Freight
- Passenger & Dual Service

Engines - Narrowgauge
- 30 Inch Gauge
- Other Gauges

Rolling Stock
- House Cars
- Open Cars
- Other Freight
- Passenger


TRS2004
- Narrow Gauge
- Standard Gauge
- Generic


Source Files
Workshop
E-mail
Source Files




Through the years of content creation, I have amassed an impressive collection of .gmax source files. Up to now, I had pretty much hoarded these except for a few rare cases. I recently realized these source files could be useful to help budding steam creators get started and even to give seasoned creators a leg up. While I have far too many meshes to make them all available, I will release those I deem useful and those that I never finished and don't plan to.

The only restriction on the use of these source files is that they are not to be used in whole or in part in any payware content. For freeware content, modify and release freely!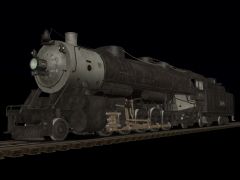 Steam Construction Templates #1
This package includes the body mesh of the USRA Light 2-10-2 and its tender. Source driver bogey files from three engines have been included to provide examples of Baker, Walscharets and Southern valve gear. Two and four wheel pilot and trailing trucks are included. This package lends itself to assisting in the creation of mid-sized steam from Class I roads.